Seth Petreikis is a six-month-old baby trying to dodge a death sentence.
Seth Petreikis will receive the thymus transplant that may save his life. His mother, Becky Petreikis, said she received a call shortly after 2:30 p.m. Friday from MDwise, Petreikis' Medicaid provider. Becky Petreikis said MDWise will partner with Hoosier Alliance to cover the surgery. Duke University Medical Center will also partner, Petreikis said. "It's an amazing miracle," said Becky Petreikis, thanking everyone who emailed and donated.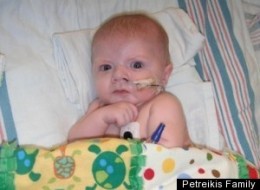 He was born in Dyer, Indiana earlier this year with a rare and usually fatal condition called complete DiGeorge syndrome. A genetic malfunction on his 22nd chromosome kept him from developing a thymus, an organ that helps develop white blood cells, and led him to have serious heart defects.
Babies born with complete DiGeorge are unlikely to see their first birthday, and almost never survive past the age of two.
Of the sixty children who have received the transplant, only two did not survive, and they suffered from other unrelated complications. The rest have gone on to live healthy, normal lives. One of Dr. Markert's patients is a perfectly healthy 17-year-old senior in high school.
"These cases are rare and the reason why state regulations exist," [Indiana FSSA spokesman Marcus Barlow] said. "We don't want them reviewed on a case-by-case basis. ... There's quite a bit of due process based on very specific rules."
http://www.nbcchicago.com/news...-Life-111518334.html