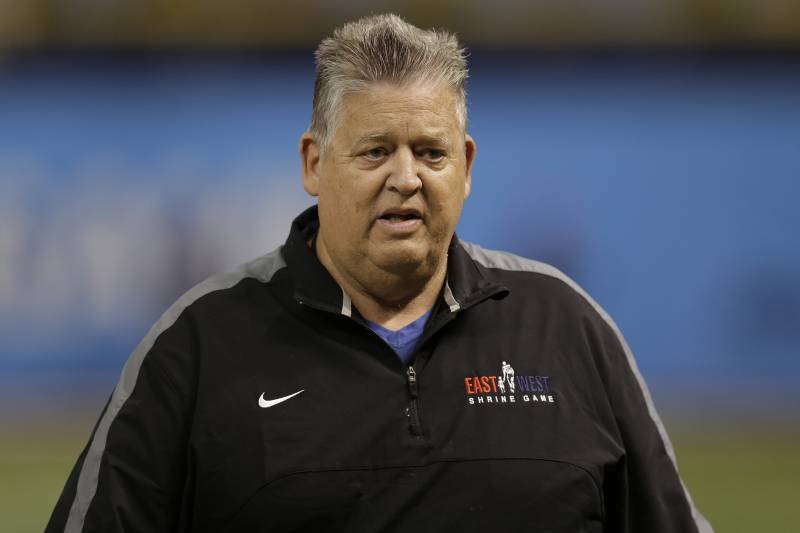 Chris O'Meara/Associated Press
Tax filings showed that Notre Dame head coach Charlie Weis ultimately received an $18,967,960 buyout from the school after being fired in 2009,
The school's latest tax return showed a $2,054,742 payment for the 2015 year, the last amount due to Weis. He was initially paid $6.6 million upon being fired and then received around $2 million per year after that, per Litman.
Much of those payments were coming while Weis was also getting paid elsewhere, according to Litman's report:
"Weis was paid nearly $10.3 million by Notre Dame between 2010 and 2014. During that time, he also worked as an assistant coach for the Kansas City Chiefs and the University of Florida. He became the head coach at Kansas in 2011, which paid him $2.5 million per season. When he was fired by Kansas in 2014, the school owed him a gross amount of more than $5.6 million under his contract in addition to what he was getting from Notre Dame and Play By Play Sports. After a variety of deductions, Kansas ended up actually paying Weis a total of a little more than $5.4 million."
Weis, 61, spent five seasons at Notre Dame, leading the team to a 35-27 record and three bowl games, including the Fiesta Bowl in 2005 and Sugar Bowl in 2006. He had far less success at Kansas, going 6-22 in his three seasons with the Jayhawks.
Darren Rovell of ESPN tallied his final head-coaching pay:
Darren Rovell
With Notre Dame buyout complete, Charlie Weis, including Kansas buyout, got paid $64.5 million for a head coaching record of 41-49.