It was a horse race like none other. In June 1973, a 3-year-old chestnut colt named Secretariat was poised to be the first winner of the illustrious Triple Crown of Thoroughbred Racing in 25 years. Secretariat, known affectionately as "Big Red," had won the Kentucky Derby and Preakness Stakes in dramatic fashion the previous month. The horse captured the world's attention, surpassing the Vietnam War, Roe v. Wade and the Watergate scandal in headlines. Still, few could imagine how stunning the win at the 1973 Belmont Stakes would be, with a speed and margin of victory that remain unmatched.
This past fall, Secretariat's owner, Penny Chenery, died at age 95. The horse lived to be 19 years old, before dying in 1989, and the trainer, Lucien Laurin, died in 2000. The jockey who rode Secretariat to victory 45 years ago, however, is still alive and well, and he is a 51-year member of the Knights of Columbus.
Ron Turcotte, 76, is a member of St. Michael de Drummond Council 6841 in Drummond, New Brunswick. Five years after winning the Triple Crown, he was thrown from a horse on the Belmont track and suffered major injuries, ending his career and leaving him paralyzed from the waist down. But it didn't change his outlook on life.
In anticipation of this year's Triple Crown races, Columbia's editor, Alton Pelowski, spoke with Turcotte about his career and his memories of riding the "greatest horse that ever lived."
COLUMBIA: What led you to become a jockey?
RON TURCOTTE: I grew up here in New Brunswick in a family of 12 children. When I was old enough, I went to work with my dad cutting lumber. After about five years, my brother went to Toronto and made a lot more money roofing houses. I decided to go back with him to Toronto, but when we arrived, the carpenters were on strike. We left here with very little money in our pockets, and we ran out not long after we got there.
At the suggestion of my landlord, I looked for work at Woodbine Racetrack outside of Toronto. I tried twice to get in, but I couldn't get by the gate without a pass.
Meanwhile, we found a restaurant that would feed us at night if we showed up at 5 and stayed until 9 to wash dishes. Then, we'd run to a bait company, hop in a truck and go pick worms and nightcrawlers until 2 or 3 in the morning. That's how we paid for our room that first month.
The third time I headed to Woodbine I hitchhiked, and it happened to be a horse trainer who gave me the ride. We headed by the guards, and he dropped me off at the office of a man who helped me find a job at E.P. Taylor's Windfields Farm, which had a horse that year in the 1960 Derby.
Not long after that, I became a jockey, even though I didn't know anything about racing. Up until then, I didn't even know what a jockey was.
COLUMBIA: And yet you went on to have an extremely successful career, beginning in Canada and then in the United States. Tell me about that.
TURCOTTE: Yes, I was leading rider the first year I rode in Canada. By October of the next year, I was 100 wins in front of the second rider.
There was a trainer at that time who wanted me to go to Maryland with him and finish out the year there. I was able to get out of my contract, and I became the leading rider in Maryland and also in Delaware the following spring, in 1964. That's where I got to meet a lot of New York people. One of the stewards asked me where I was heading next. He told me, "You can ride with anybody. You're pretty polished," and encouraged me to go to New York.
There was a state race at the Aqueduct. I went there to ride a horse for Mr. William du Pont, and I won. A couple of days later, I was one of the first three riders at Saratoga.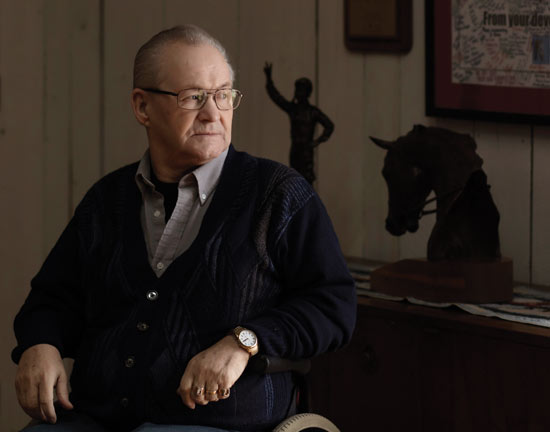 Ron Turcotte sits in his home in Drummond, New Brunswick. On the wall hangs a poster of him as a jockey, signed by his fans with "get well" wishes following his career-ending injuries in 1978. Photo by Bard Photography
See Full Story