It has been one week since the ****ing video of an ABC News anchor suggesting that the Disney-owned network killed her story on billionaire pedophile Jeffrey Epstein emerged, but those who only consume news from CNN, MSNBC, NBC News, CBS News, and ABC News have been completely in the dark, as none of them offered any coverage of the developing story.
Last Tuesday, the controversial group Project Veritas published a leaked video showing ABC News anchor Amy Robach complaining how her network had quashed her reporting three years ago despite her insistence that she "had it all," even hinting she had information about former President Bill Clinton.
CNN'S BRIAN STELTER IGNORES ABC NEWS' JEFFREY EPSTEIN SCANDAL ON 'RELIABLE SOURCES' MEDIA SHOW
"I've had the story for three years... we would not put it on the air," Robach said on the hot mic. "It was unbelievable what we had, Clinton, we had everything."
Robach suggested that ABC refused to air an interview she conducted with one of Epstein's victims because the network wanted to maintain media access to the Royal Family. (Epstein's accuser alleged Epstein arranged for her to have sex with Prince Andrew when she was 17.) ABC's decision also came during the buildup to the 2016 presidential election, when a sex scandal involving Bill Clinton would have presumably harmed Hillary Clinton.
Fox News found no mentions of the scandalous story by CNN, MSNBC, ABC News, CBS News, or NBC News from November 5-11.
ABC NEWS, CBS NEWS FACE GROWING BACKLASH OVER HANDLING OF EPSTEIN LEAKER: THEY 'COLLUDED' AND FIRED THE 'WRONG PERSON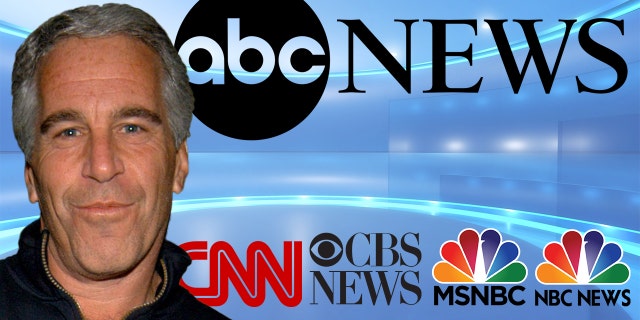 ABC News downplayed the significance of the video, telling Fox News last week that Robach's Epstein story wasn't fit to air.
"At the time, not all of our reporting met our standards to air, but we have never stopped investigating the story. Ever since, we've had a team on this investigation and substantial resources dedicated to it," an ABC News spokesperson told Fox News. "That work has led to a two-hour documentary and six-part podcast that will air in the new year."
However, the controversy continued escalating throughout the week as it was reported that ABC News was hunting down the leaker and was working with CBS News to track the person down as it was believed the ABC staffer had switched networks. CBS News then fired the alleged leaker after she was on the job for just four days. The scandal continued to receive little coverage despite the apparent collusion between networks.