Two members of the U.S. Commission on Civil Rights say the Obama-era school leniency policy that discourages reports of threatening behavior by minority students to law enforcement is dangerous.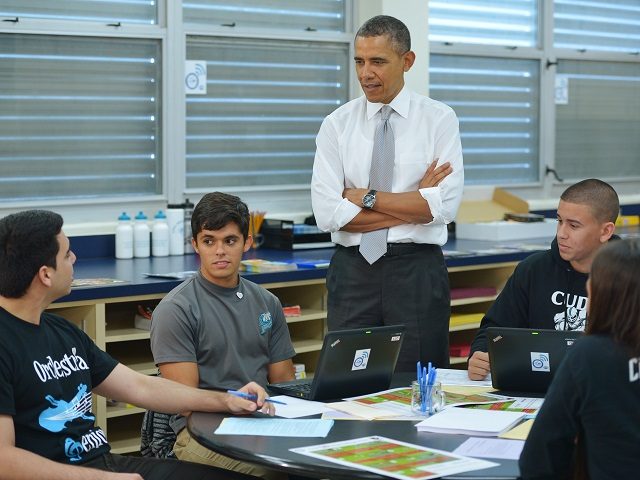 "Many schools that have adopted lenient disciplinary policies – i.e., defining offenses down so that blacks and Hispanics aren't suspended or expelled at significantly higher rates than whites and Asians—have seen marked increases in the number and severity of offenses," attorney Peter Kirsanow, a Republican member of the U.S. Commission on Civil Rights, tells Breitbart News. "St. Paul is just one example, but numerous districts across the country have reported spikes in violence against teachers and students, as well as other forms of disruptive behavior."
"Students (and teachers) have reported being fearful of going to school," adds Kirsanow, who also chairs the board of directors of the Center for New Black Leadership. "One school principal stated unequivocally that the people that are most harmed are the good students who want to learn but are harmed by the chaotic environment."
Similarly, in a paper released in January, U.S. Civil Rights commissioner Gail Heriot, an Independent and a professor of law at the University of San Diego, writes with her colleague, Alison Somin, of the dangers of the Obama-era policy:
The danger should have been obvious. What if an important reason more African-American students were being disciplined than white or Asian students is that more African-American students were misbehaving? And what if the cost of failing to discipline those students primarily falls on their fellow African-American students who are trying to learn amid classroom disorder? Would unleashing OCR and its army of lawyers cause those schools to act carefully and precisely to eliminate only that portion of the discipline gap that was the result of race discrimination? Or—more likely—would schools react heavy-handedly by tolerating more classroom disorder, thus making it more difficult for students who share the classroom with unruly students to learn?
"The Department of Education's disparate impact policy is encouraging discrimination rather than preventing it," the authors further assert:
When it comes to school discipline policy, the federal government has an unimpressive track record. In the past, it has pressed local schools to adopt tough "zero-tolerance" rules for guns (including things that appear to be guns), resulting in children being suspended for "guns" made out of a nibbled Pop Tart or a stick. Similarly, on too many occasions, its get- tough, policies on sexual harassment have led to disciplinary actions against kindergarteners and first-graders—children generally too young to spell "sexual harassment," much less engage in it.

More recently, we've been seeing an overcorrection. The federal government's policy developed during the Obama Administration has been to press schools to lighten up on school discipline, specifically to benefit African Americans and other racial minorities. But both efforts to dictate broad discipline policy, while well-meaning, are wrongheaded. It's time for the federal government to get out of the business of dictating broad discipline policy.

The debate over the Obama administration's policy comes as Nikolas Cruz is charged Wednesday with 17 counts of premeditated murder following his shooting rampage at Marjory Stoneman Douglas High School in Broward County, Florida.

Despite many warnings of Cruz's propensity for violence and aggression while he was a student at the school, he was never arrested — and was ultimately able to purchase a firearm
More of the story