President Trump didn't have a serious challenger in the New Hampshire primary, but he still turned out enough voters to more than double former President Barack Obama's 2012 vote total in the state, indicating that the Republican base is all-in on Trump as he prepares to face the eventual Democratic nominee in a reelection battle this November.
With 87 percent of precincts reporting, Trump secured more than 120,000 votes in the Granite State. In 2012, Obama managed just 49,080 total votes in New Hampshire. The gap between the two presidents is likely to increase as more precincts report their totals Wednesday.
It also dwarfs the total of other incumbent presidents: then-President George W. Bush received 53,962 votes in the largely-uncontested GOP primary in New Hampshire in 2004. And in 1996, incumbent President Bill Clinton received 76,797 votes in New Hampshire's primary.
It follows a coordinated effort by the Republican National Committee and the Trump campaign to drive up turnout for Trump in New Hampshire -- something the other incumbents didn't do. Trump himself revved up his supporters at a packed and fiery rally in Manchester, N.H., on Monday, the eve of the state's primary.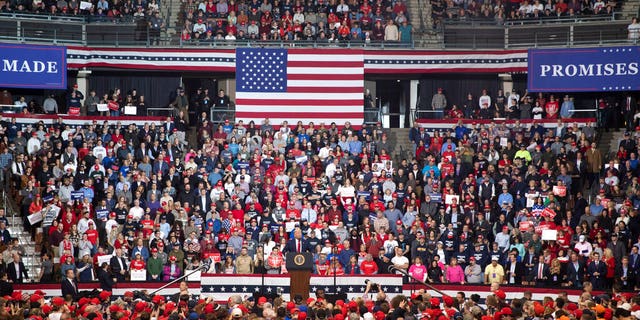 NEW HAMPSHIRE GIVES KLOBUCHAR MAJOR BOOST, PUTS BIDEN AND WARREN ON 2020 LIFE SUPPORT
"Nine months from now, we are going to retake the House of Representatives, we are going to hold the Senate, and we are going to keep the White House," Trump said to thunderous applause. "We have so much more enthusiasm, it's not even close. They're all fighting each other."
In the line to get into Trump's Monday rally, many of his voters seemed to have a zeal uncommon for supporters of an incumbent president.
Jay McDonald of North Providence, R.I., said he "100 percent" supported Trump four years ago and "nothing's changed." McDonald said he's "maybe more angry that they could do that [impeachment] to a president and get away with it over nothing."
"Hopefully he picks up more voters – the independent people – over that," McDonald said.
Brad Parscale - Text TRUMP to 88022

With approximately, 70% of precincts reporting, President Trump has surpassed the New Hampshire Primary vote total of every incumbent President running for re-election over the last four decades.
WHAT MIGHT BE ANDREW YANG'S NEXT MOVE?
Democrats largely owned the turnout in New Hampshire Tuesday -- first and second place finishers Bernie Sanders and Pete Buttigieg combined for almost 140,000 votes with 87 percent reporting -- but the Democratic primary is still wide open and there was almost nothing at stake for Trump in the New Hampshire race. His only primary challenger on the ballot was former Massachusetts Gov. Bill Weld, who had less than 10 percent of the GOP vote with 87 percent in.
The throngs that showed up for Trump's Monday rally at Southern New Hampshire University were more than the school's venue could hold with its 11,000 capacity, and the president took the opportunity to tout his accomplishments and knock Democrats in front of the large audience.
"To support working families, we have reduced the cost of child care, expanded paid leave, and given 40 million American families an average of $2,200 more in their pockets thanks to the Republican child tax credit," Trump asserted. "We are the party of equal opportunity for all Americans.
He added: "While the extreme left has been wasting America's time with this vile hoax, we've been killing terrorists, creating jobs, raising wages, enacting fair trade deals, securing our borders, and lifting up citizens of every race, color, religion, and creed!"
Brad Parscale - Text TRUMP to 88022
Thank you, Iowa!

Record turnout for @realDonaldTrump in Iowa - most ever for an incumbent President.
Unified, energized & growing!
Contrast that with the Dems in Iowa - disarray, demoralized & confused.
Team Trump is an unstoppable juggernaut and THE BEST IS YET TO COME!